GICR Masterclass: Childhood Cancer Train the trainers Workshop.
The ChildGICR Masterclass was launched this week to increase the capacity of generating data on childhood cancer in population-based cancer registries. The Masterclass was developed in collaboration of the St. Jude Children's Research Hospital (SJCRH) and the International Agency for Research on Cancer (IARC), formalized in a bilateral agreement Targeting Childhood Cancer through the Global Initiative for Cancer Registry development (ChildGICR). The aims of the agreement include three workstreams: (1) Expanding and improving data for cancer control; (2) Developing educational strategies to strengthen the cancer registry workforce globally; (3) Conducting research to support childhood cancer control (https://gicr.iarc.fr/child-gicr/objectives).
The Masterclass will enhance the competence within the GICRNet in registration of cancer in children.GICRNet is a network of trainers, who disseminate expertise in cancer registries in six world regions.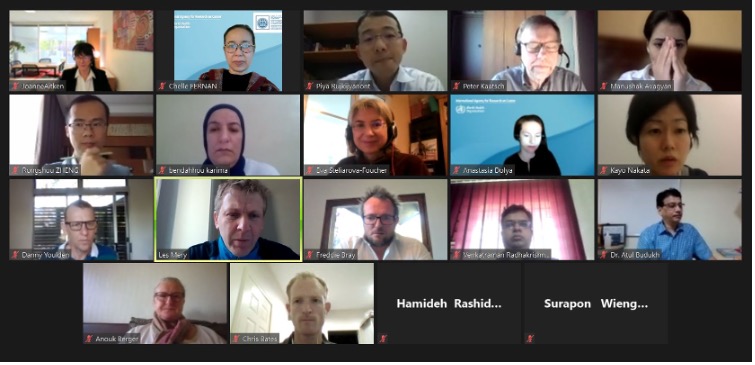 ChildGICR Masterclass
Due to the COVID-19 pandemic, the Masterclass is being held online. Over several months, the participants will be developing teaching material on seven priority topics, identified in a preceding survey of educational needs. Working in small groups, the participants will have plenty of learning opportunities through their interaction. The development of the topics is overviewed by invited Senior Advisors.
The expected outcomes of the ChildGICR Masterclass 2021 are:
Defined priority topics for training and dissemination
A network of regional trainers
Standard teaching material for the defined topics
A training deployment plan
Trainers certification programme


The effort aims to facilitate better knowledge dissemination, and consequently higher quality of cancer incidence data in low- and middle-income countries, which are indispensable for both planning and evaluation of national cancer control plans and for research.
There are 23 target participants in the ChildGICR Masterclass, contributing varying backgrounds and expertise. Most of them were nominated by the Principal Investigators of the six GICR hubs or by the Masterclass initiators. Their selection was based on their competence, interests and potential. They demonstrated experience in delivering courses or providing technical support in childhood cancer registration and epidemiology.
On successful completion of the Masterclass, these participants will become a member of the GICRNet (https://gicr.iarc.fr/building-capacity/iarc-gicr-regional-trainers/) with an advisory and educative capacity in childhood cancer registration and an ability to provide expert advice in childhood cancer registration, online support and training to affiliated staff in the registries. They will be certified to organise and deliver courses or sessions.
As members of GICRNet they will continue their collaboration and will support the dissemination of standardised materials in different languages.