ChildGICR Childhood Cancer Registration online courses
Two online courses will be run in September 2022 to promote childhood cancer registration and implementation of international standards.
The courses are organised by Cancer Institute (W.I.A) in Chennai and Vietnam National Cancer Institute in Hanoi, under the auspices of the International Agency for Research on Cancer and St Jude Children's Research Hospital.
Call for applications are opened for health professionals involved in population-based cancer registration in the following target countries:

Places are limited, apply today!
First ChildGICR Masterclass
As part of the ongoing activities of the GICRNet to form networks of regional trainers on specific topics in cancer registration, the ChildGICR Masterclass was launched last spring. From April to June 2021, nine live online sessions were held to discuss the creation of new education material for childhood cancer with selected participants worldwide. A post-course component was completed in July using small working groups.
The aim of the Masterclass was to increase the capacity of generating data on childhood cancer in population-based cancer registries. The Masterclass was developed in collaboration of the International Agency for Research on Cancer (IARC) and the St. Jude Children's Research Hospital (SJCRH) as part of the bilateral agreement "Targeting Childhood Cancer through the Global Initiative for Cancer Registry development (ChildGICR)".
Most participants were nominated to become part of the GICRNet, a network of trainers, who co-develop new education material and disseminate their expertise to those who need assistance in the six IARC Hub regions.
Overall, 22 participants from 19 countries completed the Masterclass. In working groups, they developed teaching material on seven topics, identified in a preceding survey of educational needs. Development of each topic was supported by a senior advisor according to a provided brief outline. The participants benefited from hands-on experience and learning opportunities through their mutual interaction. After the nine live sessions, they were ready to develop a template for a future course that they would organise in their local setting. All developed materials are under review and will result in a set of standard teaching material.
The outcomes of the ChildGICR Masterclass 2021 on childhood cancer registration are:
Defined priority topics for training and dissemination;
Standard teaching material for the defined topics;
A network of trainers ready to share and exchange their knowledge;
A training deployment plan; and,
Trainers development programme.

Equipping the Masterclass participants with the skills relevant to registration of childhood cancers will facilitate knowledge dissemination, and consequently higher quality of cancer incidence data in low- and middle-income countries, which are indispensable for both planning and evaluation of national cancer control plans and for research. In the framework of the GICRNet, participants built a solid support network of collaborators to rely on during dissemination of their acquired expertise in the childhood cancer registration within their regions, in different languages.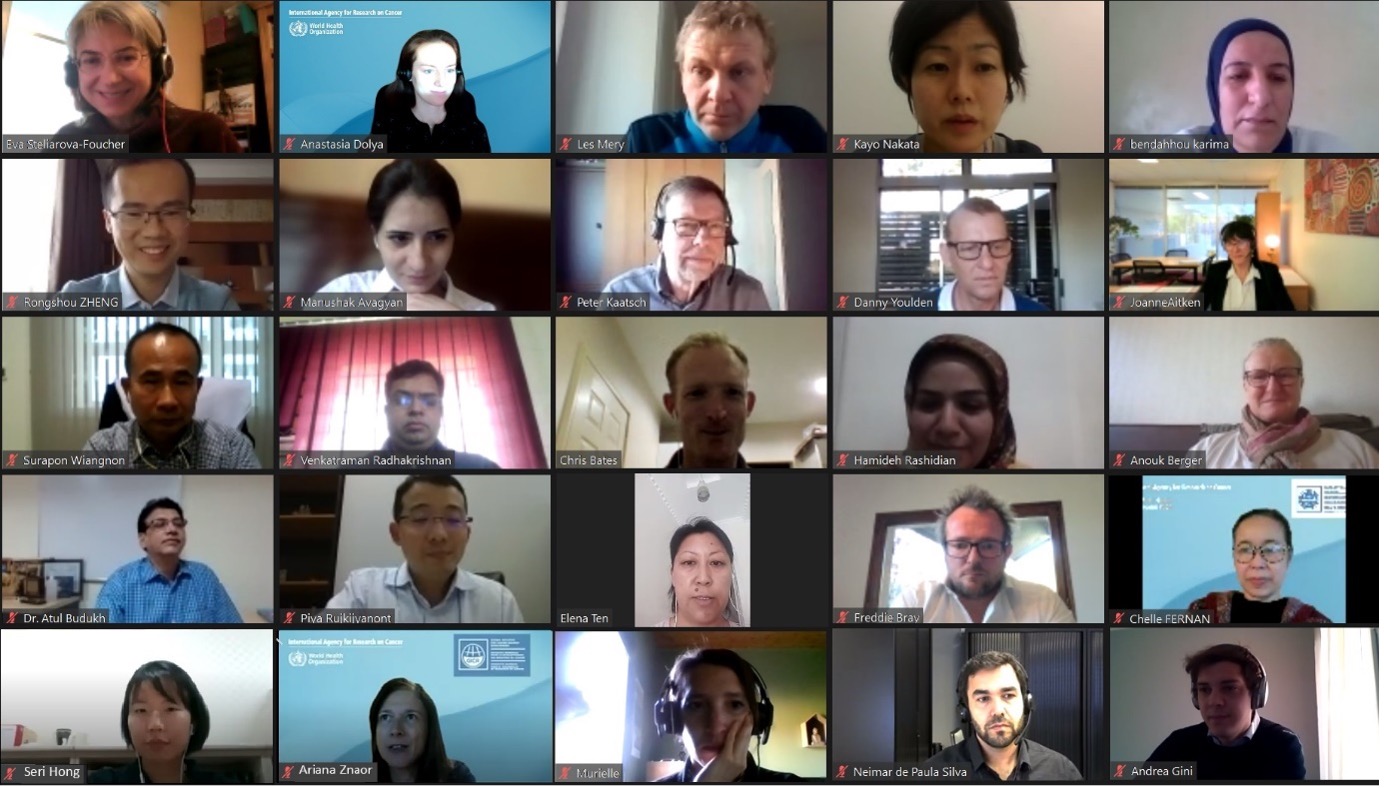 Participants of the online ChildGICR Masterclass, in April 2021.