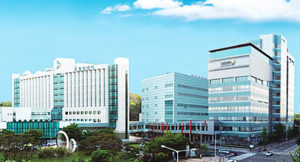 IARC GICR and the Korean National Cancer Center and its Graduate School of Cancer Science & Policy (NCC-GSCP) is holding the inaugural IARC GICR - Korean NCC Summer Training Course on Cancer Registration on 08- 12 July 2019.
The course will focus on the fundamentals of planning and developing population-based cancer registries. Population-based cancer registration is a basic element of cancer control, making possible the rational use of resources as well as the identification of areas in need of research. In many parts of the world, cancer registries provide the only source of information on the size, nature and evolution of the local cancer problem.
The course is intended for health professionals working in cancer registration. The course targets up to 30 participants from South, South-East and East Asia. Priority is given to applicants from low- and middle-income countries who are involved in the process of establishing or strengthening a population-based cancer registry. All participants must be fluent in English, the working language of the course.
Read more:
https://training.iarc.fr/iarc-kncc-joint-summer-school-on-cancer-registration/