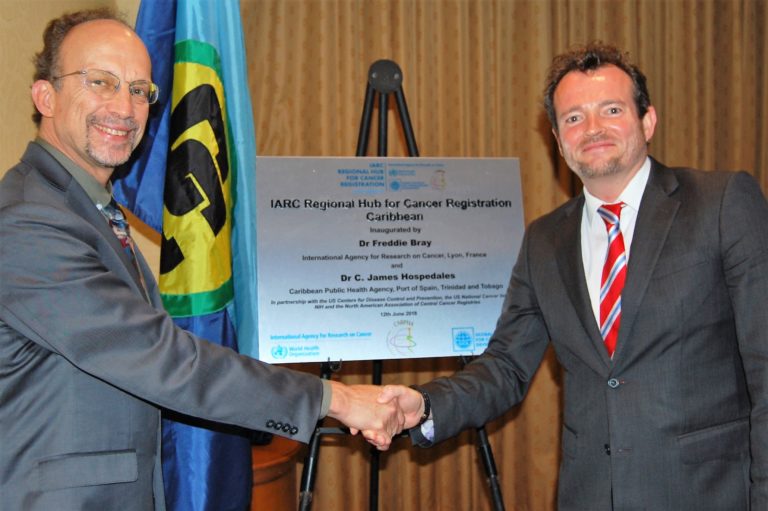 The Caribbean Public Health Agency (CARPHA) and the International Agency for Research on Cancer (IARC) launched the IARC Caribbean Regional Hub for Cancer Registration on 12 June 2018.
Located at CARPHA's Headquarters in Port of Spain, Trinidad and Tobago, the IARC Caribbean Cancer Registry Hub will be inaugurated during the meeting of the Chief Medical Officers of Health in St Kitts and Nevis by Dr Freddie Bray, Head of IARC's Cancer Surveillance Section, together with Dr James Hospedales, Executive Director of CARPHA.
Throughout IARC's over 50 year history, cancer registration has been a priority. The **GICR** represents a new model to provide support. Through the collective work of many partners, the **IARC** Caribbean Cancer Registry Hub will be assisting countries who need it the most.
The [Global Initiative for Cancer Registry Development](http://gicr.iarc.fr/), led by IARC, the specialized cancer agency of the World Health Organization (WHO), is an international partnership that combines technical support, training and advocacy to ensure cancer registry systems are developed across the world to inform national cancer control. Within the framework of **GICR**, the **IARC** Caribbean Cancer Registry Hub will serve all independent countries and territories located within the Caribbean basin and selected countries in South America. In the Caribbean, cancer is the second leading cause of death. In addition, Caribbean countries are among the worst affected in the Americas, with cervical and prostate cancer mortality rates being two to nine times higher when compared to the United States.
_ Cancer registration is limited in the Caribbean and the Caribbean Cancer Registry Hub will seek to strengthen cancer surveillance by building capacity for cancer registration in the Region. The availability of cancer surveillance data is critical to enable evidence-informed decision making, in support of wider national and regional cancer control and prevention programmes_
Operating within the overall framework of the **GICR**, the IARC Caribbean Cancer Registry Hub is a partnership between **IARC**, **CARPHA**, the **US Centers for Disease Control** and Prevention (CDC), **the US National Cancer Institute** (NCI), and the **North American Association of Central Cancer Registries** (NAACCR). The newly-inaugurated Hub is part of a larger network of IARC Regional Hubs in Asia, Africa and South America. Currently, only 68 of the world's countries (mainly those considered as high income) are equipped with high quality population-based cancer registry data, while a further 62 countries (largely those in low- and middle-income countries) have, as yet, no reliable data. In the Caribbean, 15 of 27 countries have some level of cancer registry activity, however quality standards are not uniform and gaps in data collection over time are common. Consequently, there is a paucity of reliable information on the burden of cancer, and as a consequence, evidence-based decision-making for cancer prevention and control is difficult in this region. ## Medias